The objective of our rehab program is to provide a variety of addiction counseling methods and settings in order to offer different opportunities to heal, learn and grow. Each person addicted to alcohol & drugs has particular strengths and weaknesses that need to be identified and addressed. Certain issues and characteristics lend themselves to individual addiction counseling, while others are better served through family or group counseling. Our thorough assessment process is designed to reveal the needs of each resident and ensure that those needs are met by their substance abuse program treatment plan.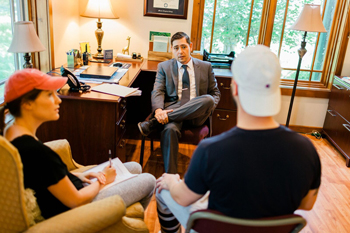 Individual Counseling for those addicted to alcohol & drugs focuses on identifying and building up inherent strengths, while recognizing, accepting and correcting weaknesses. As this process progresses, the "true self" is revealed and the "false self" is dismantled. Areas of focus include emotion regulation, behavior modification and cognitive functioning, pertaining to beliefs, thoughts, attitudes and rules about life.
Family or Marital Counseling in our substance abuse program provides an opportunity to address the most significant relationships in a person's life. Marital or Family addiction counseling offers a safe space to practice relating to significant others in new and better ways. Participants learn to appreciate and grow through their differences as they practice effectively using Critical Life Skills such as communication, decision making, problem solving and conflict resolution.
Group Counseling for those addicted to alcohol & drugs provides a social setting in which residents can become mindful of and work toward improving important skills. These include patterns of connecting with others, learning to communicate effectively, making healthy decisions, solving problems and resolving conflicts in a group setting. Group addiction counseling provides an opportunity to form a cohesive whole and work with others to achieve goals that are beneficial to each person and the group.