The objective of our treatment program is to impart both knowledge and important life skills to residents in a way that encourages self-discovery and motivates change. To those recovering from addiction we offer education that aims to facilitate healing and growth by presenting information that will touch and transform the mind and the heart.
Recovery education at our rehab center in PA is offered in a group format that encourages social interaction with peers and counselors. Residents recovering from addiction are encouraged to expand their awareness of addiction, recovery, relapse prevention and themselves. New insight and understanding can be discussed with the group and/or brought into individual or family counseling sessions.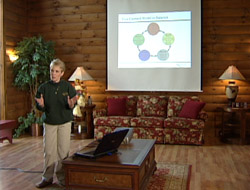 The spiritual content of our alcohol & drug addiction recovery program is reinforced through guided meditations that are specifically designed to enhance the therapeutic experience. The lessons are non-denominational and designed to be affirming, challenging, inspirational and healing.
An important part of our program for those recovering from addiction includes presentations designed to create a greater understanding of addiction and prevent relapse.
Topics include:
Understanding Self-Destructive Behavior
Co-occurring Addiction
Denial
Underlying Factors that Contribute to Addiction
Establishing a Spiritual Foundation for Recovery
Learning the 12-Steps, Pursuing Recovery with Enthusiasm
Drugs and the Pleasure Circuit in Your Brain
Being Truly Honest with Yourself and Others
Healing the Cycle of Emotional Wounding
Finding Balance
Managing stress