St. Joseph offers an alcohol abuse & chemical dependency treatment program that is unlike most others; we focus on individual treatment with a unique plan for each participant.
Our proven methods of treatment and state-of-the-art techniques are brought together in a holistic approach that heals the whole person – body, mind, emotions and spirit.
This approach has led to a success rate that is at the top of our industry.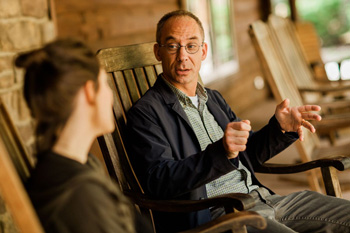 Our staff of highly trained professionals uses a combination of approaches to build the foundation for lasting recovery. Individual counseling, education and lifestyle instruction, nutrition and fitness, 12-Step programs, physician support, pain and stress management, spiritual support and meditation are components of an individual's alcohol abuse & chemical dependency treatment plan.
We focus on healing rather than casting judgment or condemnation on those who need our help. The Institute is built on Christian, non-denominational principles, welcoming people of all faith backgrounds. Located on a beautiful mountainside in central Pennsylvania, our environment facilitates healing. Elegant log and stone lodges, miles of walking trails, a spa and wellness center, gym, library, chapel and very private grounds all contribute to a successful recovery experience in our substance abuse program.
Among our areas of specialty are the following: