Christmas Morning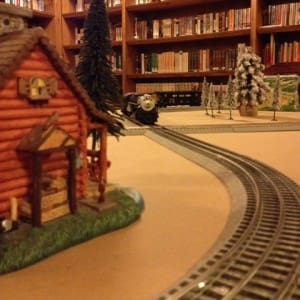 Christmas Traditions make the holiday special. Christmas morning is when we gather in the Great Room at Bald Eagle Hospitality House to share Christmas traditions, while our residents enjoy sipping hot chocolate. Every family has their own traditions that make Christmas a special time for them. This is when we gather to reminisce and share the magical moments in our lives. Some residents share stories from their childhood, recalling sliding down the stairs with a sense of wonder and awe they experienced from seeing the lights and decorations and presents under the tree. For others, their most treasured memory is the electric train set up on its own platform with scenes of towns, clusters of decorated trees and of course the train whistle and the smoke that comes out of the engine. Our older residents recall the Christmas celebrations that they created for their children, passing down the great Christmas traditions to the next generation. Some feel that a traditional Christmas Eve church service is what really makes Christmas come alive for them. Others recall the special holiday meal and the Christmas goodies they got to enjoy.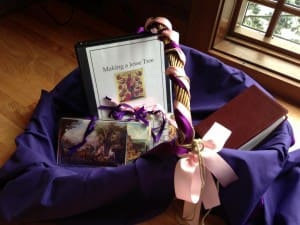 Along with our reminiscing, we sing carols and we hang the last ornament on our Jesse Tree. To complete our special Advent tradition we hang a picture of the baby Jesus in the center of the Jesse Tree. This helps us all appreciate the passage of time and the fulfillment of God's plan. With our minds focused on the goodness of God and our hearts warmed by the special memories of Christmases spent with those we love, we open presents to remind us of the many gifts we have received from God. At St. Joseph Institute Christmas morning is filled with memories and gratitude and "glad tidings of great joy."
Christmas Afternoon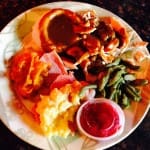 We welcome family members and friends of residents to join us for our Christmas feast of freshly roasted turkey, baked ham, homemade stuffing and mashed potatoes, along with candied sweet potatoes, freshly steamed vegetables, and pineapple casserole. Of course, no holiday dinner would be complete without our delicious homemade pies: pumpkin, pecan, apple and egg custard. Our residents get to fully participate in this joyous holiday and share this blessed time with their family members.