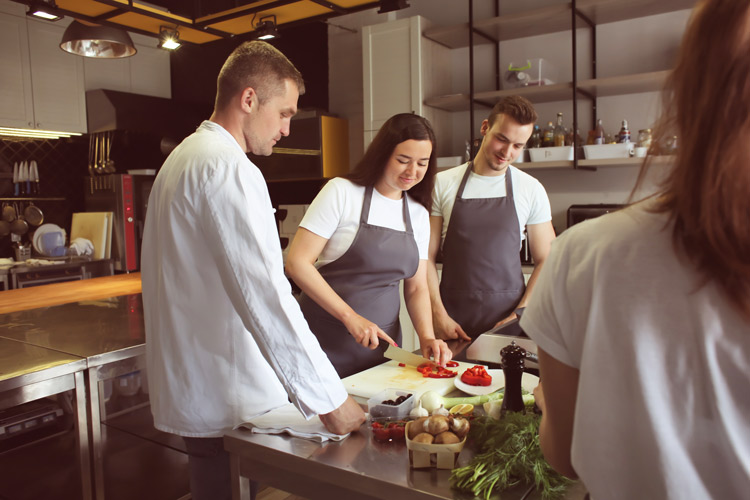 Although there's nothing wrong with dinner and a movie, sometimes you want a new sober date idea—especially if you're planning an outing for Valentine's Day, your anniversary, your sweetheart's birthday, or another special occasion. The team at St. Joseph Institute has put together this list of fun sober date ideas in the State College area to help you show your special someone a great time without putting your recovery at risk.
Paint Your Own Pottery
A paint-your-own-pottery place lets you express your creativity while having fun. You can paint a large item together, paint separate items as gifts for each other, or paint items to take home individually. The choice is yours.
Most paint-your-own-pottery places require you to return at a later date to pick up your fired items. This is ideal for scheduling a follow-up date since you can arrange to meet for coffee or dinner after seeing how your creations turned out.
At 2000 Degrees Pottery, you'll find hundreds of pottery options to choose from. When you pick a piece you want to paint, you'll receive a demonstration and some helpful tips—so there's no previous art experience necessary. If you want to get together with several couples, parties of 10 or more receive a discount on studio fees.
Find Your Way Out of an Escape Room
If you like puzzles and pride yourself on your quick thinking, visiting an escape room can be a memorable sober date. In an escape room, you are given a series of themed clues and challenged to find your way out of the room within a predetermined time period—typically 60 minutes. Teamwork and creativity are the keys to success in this real-life adventure game.
Escape Artist Centre County has numerous escape rooms to choose from, including The Treasure of Captain Green Beard, The Room of a Serial Killer, The Chamber of Imhotep, and Finding Sherlock Holmes. You can book a room for just the two of you or try to escape with a group of friends.
Check Out a Virtual Reality Arcade
If your date's an avid gamer, a trip to a virtual reality arcade is sure to please. VR arcades provide a totally immersive gaming experience that's unlike anything you've seen before. In fact, this may just become a regular part of your date night routine!
Rampage has a virtual reality arcade that includes a wide range of individual and multiplayer games. Play time is purchased in 15-minute increments, but the facility offers a wide range of promotions and specials to make the experience as affordable as possible. And, once you're done playing, Rampage also has a smash room, where you can take out your frustrations by breaking things in a safe environment, and a splatter room, where you can create your own splatter paint masterpiece.
Play Laser Tag
Get in touch with your inner child and work up a sweat with a round of laser tag. You'll have so much fun, you'll wonder why you didn't think of this sober date idea sooner!
Although laser tag is a fun and casual way to spend time together, please note that this is not a great idea for a surprise date. Make sure your date knows where you plan to go, so they can dress appropriately. Playing laser tag in high heels would be a recipe for disaster!
What-a-Blast Laser Tag has a 5,000-square-foot area complete with walls, obstacles, mirrors, shooting towers, and hiding spots. Prices start at just $13 per person, making this a frugal and fun date night. The facility is also open to 3 am on Fridays and to 4 am on Saturdays, which makes laser tag a good choice for night owls.
Attend a Cooking Class
If you're passionate about good food, taking a cooking class with your date gives you a chance to learn new skills in the kitchen and expand your culinary horizons. Sampling what you've made only adds to the fun.
Taste Buds Kitchen offers a wide range of cooking classes for adults, with options such as Sushi and Dumplings, Tasty Thai, A Taste of India, Handmade Pasta, and Mediterranean Favorites. The classes are BYOB, but you are welcome to bring whatever non-alcoholic beverage you most enjoy.
Treat Yourself to a Couple's Massage
If you are ready for some pampering, a couples massage is a relaxing treat. Massages relieve stress, tension, and anxiety—offering benefits that last far beyond your date. It's a bit of a splurge, but a worthwhile indulgence for a special occasion.
Artemis Massage offers a full range of services, including 30, 45, 60, 75, 90, or 120-minute couple's massages. Upgrade options include red linens, aromatherapy, hot towels, and Swiss chocolate truffles. If desired, you can also book a yoga and meditation private instruction session.
To learn more about SJI drug and alcohol treatment near Pittsburgh, and our programs, please contact us at (888) 352-3297.