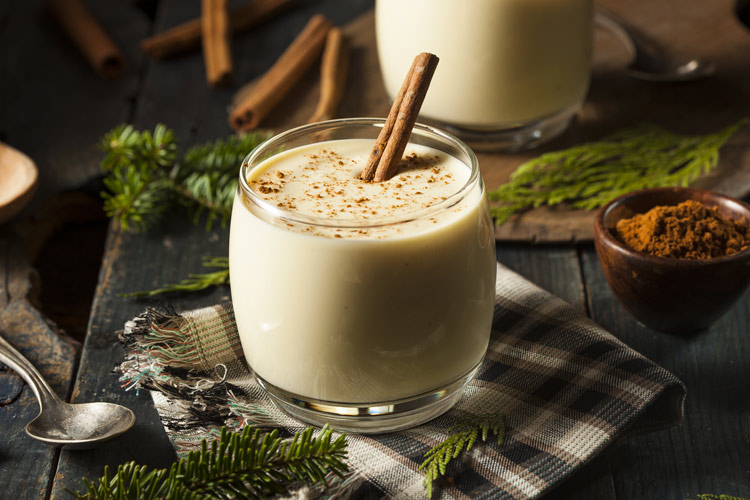 If this is your first holiday season in recovery, you may find yourself wondering how you'll stay sober through months of parties with family and friends. At St. Joseph Institute for Addiction's Pennsylvania substance abuse treatment center, we recommend defusing potentially awkward situations by bringing a tasty non-alcoholic drink for everyone to share.
You're Not the Only One Not Drinking
Remember, many people avoid alcohol for a number of reasons that have nothing to do with addiction recovery. Pregnant women, people trying to lose weight, individuals who don't drink alcohol for religious reasons, or those who can't mix alcohol with their medications will all appreciate having a festive beverage option to enjoy.
Spiced Cranberry Apple Cider
Slow cookers make holiday entertaining easy. Betty Crocker's twist on a classic holiday drink is perfect for party-goers of all ages.
Ingredients:
⅓ cup packed brown sugar
2 teaspoons whole allspice
4 sticks cinnamon
1 bottle (48 oz.) apple cider
1 bottle (48 oz.) cranberry juice cocktail
Directions:
Mix all ingredients in a 4- to 5-quart slow cooker.
Cover and cook on the low heat setting for 4 to 6 hours.
Before serving, remove allspice and cinnamon.
Christmas Punch with Cranberries
This delicious punch recipe from Peter's Food Adventures is easy to make, but not too sweet or too tangy. The frozen cranberries and rosemary garnish add visual appeal.
Ingredients:
64 oz. cranberry juice
2 liters ginger ale
1 lb. frozen cranberries
1 sliced orange
Rosemary sprigs for garnish
Directions:
Combine the cranberry juice and ginger ale in a large punch bowl.
Add the frozen cranberries, orange slices, and ice.
When serving, garnish with a small orange slice on the rim of each glass and a fresh sprig of rosemary.
Simple Sparkling Raspberry Mocktail
If you're looking for an alternative to champagne, this sparkling mocktail from Poofy Cheeks is the perfect choice. The ice cubes with raspberries make it pretty and festive.
Ingredients:
12 oz. frozen raspberry lemonade concentrate
3 cups cold water
1 cup frozen raspberries (fresh work, too)
1 bottle sparkling grape juice
Directions:
Mix frozen lemonade concentrate and 3 cups of water in a small pitcher. Sprinkle raspberries into an ice cube tray and then slowly pour the raspberry lemonade mix over them. Set the remaining drink mix aside until later.
When ready to serve, add ice cubes to each glass. Pour about 1 tablespoon of the raspberry lemonade in the bottom of each glass. Top off the glass with sparkling grape juice.
Hot Chocolate
If you've been sipping hot cocoa from store-bought packet mixes, you're missing out. This homemade slow cooker version from Wishes and Dishes is creamy and decadent.
Ingredients:
1 ½ cups heavy whipping cream
1 14 oz. can sweetened condensed milk
6 cups milk
1 teaspoon vanilla
2 cups milk chocolate chips
Whipped cream (optional)
Miniature marshmallows (optional)
Directions:
Stir whipping cream, milk, vanilla, and chocolate chips in a 5-quart slow cooker. Cover and cook on low for 2 hours. Stir occasionally until mixture is hot and chocolate chips are melted.
Switch to the warm setting, then stir again before serving.
Garnish individual cups of hot chocolate with whipped cream or marshmallows, if desired.
Old-Fashioned Non-Alcoholic Eggnog
Eggnog is a classic holiday treat. This non-alcoholic version from The Stay at Home Chef is more delicious than anything you'll find at the grocery store. This recipe is a little more time- consuming than our other holiday beverage suggestions, however. If you're hosting guests, make sure to plan ahead so your eggnog is ready to serve when everyone arrives.
Ingredients:
2 1/2 cups milk
4 whole cinnamon sticks
1/8 teaspoon ground cloves
1/2 teaspoon vanilla extract
7 egg yolks
3/4 cup white sugar
2 cups heavy cream or half and half for a light version
2 teaspoons vanilla extract
1/8 teaspoon ground nutmeg
Directions:
Add milk, cinnamon sticks, cloves, and 1/2 teaspoon vanilla to a large saucepan on the lowest heat setting on your stove for 5 minutes.
Whisk together the egg yolks and sugar for 1 minute in a separate bowl.
Turn the heat under the milk up to medium-high. Remove the cinnamon sticks.
Stir the milk constantly until it just starts to boil, then turn off the heat.
Slowly whisk in about 1/4 of the hot milk into the egg/sugar mixture. Then, pour the egg and sugar mixture back into the saucepan and whisk it all together. Put it over medium heat, whisking for 3 minutes until it starts to thicken.
Pour the hot eggnog into a large bowl or beverage container and let cool at room temperature for 1 hour.
After 1 hour, stir in the heavy cream, 2 teaspoons vanilla, and nutmeg.
Store eggnog in the fridge. Allow to cool for at least 4 hours before serving.
To learn more about SJI alcohol rehab in Pennsylvania, and our programs, please contact us at (888) 352-3297.
Additional Ideas
Looking for more non-alcoholic holiday party drinks or inspiration for a mocktail to enjoy at home? You'll find lots of seasonally appropriate choices on these great websites: