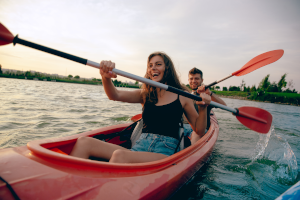 Even if you feel relatively confident in your sobriety during the week, the weekend may be another story entirely. If you spend years viewing the weekend as a non-stop chance to party, it can be difficult to imagine staying sober on Friday, Saturday, and Sunday. This is understandable, but we promise that real-life relaxation will feel so much better than the drug- or alcohol-induced version.
Set Yourself Up for Success
As with other recovery-related challenges, a proactive approach will set you up for a successful weekend. Remember these tips:
Plan ahead. Boredom is a common relapse trigger, so it's a good idea to make plans for the weekend well in advance. Regardless of what you choose to do, having a clear plan will also make it easier to gracefully decline any invitations that could put you in harm's way.
Avoid triggering environments. In the early stages of recovery, the best way to set yourself up for success is to avoid temptation as much as possible. This means steering clear of bars, nightclubs, and rowdy house parties. Friends and family who have your best interests at heart will understand that you need to decline these types of social invitations. If you're feeling pressured, it might be time to reconsider if you're in a toxic relationship that is putting everything you've worked for at risk.
Always have an exit strategy. If you accept an invitation to an event, think about what you'll do if your cravings start to get overwhelming. Attend with someone who understands that you might need to leave suddenly and who you trust to help you work through your cravings without a relapse.
Keep your eye on the prize. Take the time to remind yourself why you're in recovery and what you're working towards. Thinking about how far you've already come and how your relationships have already improved will help you stay committed despite any unexpected obstacles you encounter.
Hold yourself accountable. Many people in the early stage of recovery find it helpful to attend a weekend AA or NA meeting to provide added accountability. Another option might be to schedule a check-in with your sponsor or someone you trust.
Sober Weekend Activities to Consider
There's no "one-size-fits-all" answer to how to spend a sober weekend. Some people prefer a weekend packed with non-stop activities, while others want to have plenty of time for rest and relaxation. Give yourself some time to figure out an approach that fits your needs.
Reach out to a loved one. Make plans to catch up with a friend or family member you haven't seen in a while.
Visit a local coffee shop. Locally owned coffee shops often have poetry readings, live music, or other weekend events.
Treat yourself to brunch. Early morning meals are more affordable, and there's less temptation to drink before noon.
Browse a local farmer's market. Buy fresh produce, then cook a delicious meal for a few friends.
Have a picnic. Enjoy your meal at a local park or try stargazing in your backyard.
Plan a movie night. You can meet with friends in person or host a virtual watch party.
Hit the gym. Exercise releases mood-boosting endorphins, and going to the gym provides an opportunity to meet new people.
Register for a class. Whether it's arts and crafts, music lessons, a foreign language, or just a topic you've always been interested in, learning something new is a great way to cure boredom.
Volunteer. Helping others boosts self-esteem and feelings of gratitude. Community non-profits of all types are continually in search of new volunteers.
Be a tourist in your own town. Check out all the local landmarks you've never seen before. Take plenty of pictures and treat yourself to a fun souvenir.
Pamper yourself. If your budget allows it, splurge on a professional massage. If you're working with more limited funds, try one of the many DIY spa treatments you'll find online. (If you're married or in a committed relationship, a couple's pampering session can be a wonderful date night idea!)
We're Always Here to Help
At St. Joseph Institute for Addiction, we're committed to your success. Graduates of our Pennsylvania residential drug and alcohol addiction treatment center have built the foundation for a lasting recovery but have access to a full range of relapse prevention and continuing care services designed to ease the transition back to independent living. Contact us today to learn more about how we can help you reach your recovery goals.
To learn more about SJI residential rehab in Pennsylvania, and our programs, please contact us at (888) 352-3297.