What Is Chronic Pain?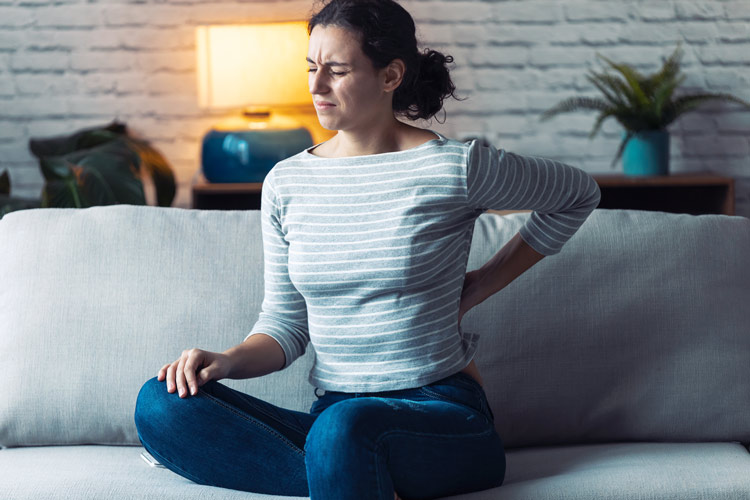 Chronic pain is defined as pain that is experienced on most days of the week for a period of six months or more. A wide range of medical conditions, including osteoarthritis, autoimmune disorders, gastrointestinal diseases, and migraines, have been linked to chronic pain. In total, the U.S. Pain Foundation estimates that about 20% of American adults deal with some form of chronic pain.
Individual experiences with chronic pain vary, but pain is well-recognized to have a negative impact on a person's mental health as well as their quality of life. Many people struggling with chronic pain turn to drug and alcohol abuse to self-medicate their symptoms—leading to the development of a substance use disorder that wreaks havoc on their physical, mental, and spiritual health. The COVID-19 coronavirus pandemic has only heightened the struggles faced by those with chronic pain since stressful situations are known to increase pain levels by leading to symptoms such as a higher heart rate and blood pressure, fast and shallow breathing, and tight muscles.
The Relationship Between Chronic Pain and Opioid Addiction
Although chronic pain patients can abuse a wide range of substances, opioid addiction is the most common. Generally, addiction begins with a legitimate prescription. Despite efforts made to limit the use of opioid painkillers, the amount of opioids prescribed per year per person has more than tripled since 1999.
Opioid painkillers such as Percocet and OxyContin are highly effective but must be taken with great care. Without vigilant monitoring and full education about the addictive nature of prescription opioids, patients may take higher than prescribed doses or combine opioids with alcohol to increase the sedative properties. Eventually, they may even turn to street drugs such as heroin when prescription pills become too difficult to obtain.
The opioid epidemic has affected people from all walks of life, but research has shown opioid misuse is highest in the areas of the United States associated with high levels of unemployment, food insecurity, and unstable housing. Since COVID-19 closures are causing widespread economic distress, public health professionals are worried about the potential for chronic pain patients to cross the blurred line between dependency and abuse.
It's essential that those who are suffering from addiction receive early intervention whenever possible. A proactive approach to treatment minimizes the long-term negative consequences associated with addiction—including the risk of a fatal overdose.
Get the Treatment You Need to Succeed
Opioid addiction does not reflect a character flaw or indicate a lack of willpower. Substance use disorders are biologically based illnesses with complex environmental triggers, but they can be successfully treated. To promote lasting sobriety, however, you must address the chronic pain that spurred the development of the substance use disorder at the same time you are learning the coping skills that encourage abstinence.
St. Joseph Institute for Addiction's Pennsylvania residential treatment center launched an innovative new chronic management program in August 2020. The program combines relaxation training and neuroscience classes, so clients understand how to manage pain without the need for addictive medications. Staff physical therapist Dr. Bill Hanlon helps clients learn about the neuroscience behind pain and how the brain and nervous system work together to maintain pain cycles, so they can better understand what they need to do to manage their health.
There are three key components of the chronic pain program:
Pain education. Understanding the neuroscience of pain and what lifestyle modifications can help with symptoms such as muscle tightness and stiffness empowers patients to take control of their condition.
Physical therapy. Clients are provided one-on-one visits with St. Joseph Institute for Addiction's physical therapy team to help evaluate and treat pain and stiffness.
Relaxation training. Often, people with substance use disorders related to chronic pain suffer from anxiety that intensifies their symptoms. Our program teaches relaxation techniques that calm the overworked nervous system.
We're Here to Help
St. Joseph Institute for Addiction has been classified as an essential service provider by the state of Pennsylvania. This means we will remain open and continue to accept new clients regardless of any quarantine restrictions that might be implemented by government officials. We are taking all CDC-recommended safety precautions and monitoring COVID-19 infection data carefully to ensure that we continue to provide the safest possible environment for the men and women we serve.
To learn more about SJI and Pennsylvania opioid addiction treatment, and our programs, please contact us at (888) 352-3297.