Feeling Irritated Easily Lately?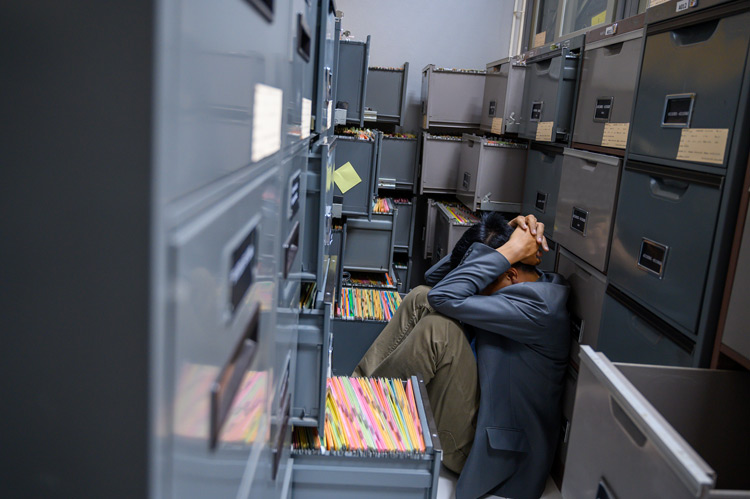 Is your first response to a difficult task to postpone it for as long as possible? Do you often find yourself searching for "quick fix" solutions or immediate gratification instead of taking the time to make a decision that will lead to long-term success?
It's normal to feel frustrated when you're faced with challenges or setbacks that prevent you from achieving your goals. However, you need to take steps to manage your frustration appropriately if you want to keep your recovery on track.
People With Substance Use Disorders Often Have a Low Frustration Tolerance
Psychologist Albert Ellis studied how people react to a range of day-to-day challenges and coined the term low frustration tolerance (LFT) to describe individuals who are quickly frustrated and deal with their frustration in unproductive ways. This concept is a key part of rational emotive behavior therapy (REBT), which is based on the principle that we all have rational (constructive) and irrational (self-defeating or unhelpful) tendencies that need to be managed appropriately to help us reach our goals.
If you're a fan of the SMART Recovery peer support group, this might sound familiar. SMART Recovery uses REBT to help people seeking abstinence from drugs and alcohol make better choices about their future. It encourages participants to examine their personal goals, values, and philosophy of life to see how their actions are affecting their self-help efforts.
Low frustration tolerance is common among people with substance use disorders, and many SMART Recovery participants report that drugs and alcohol were once their "go-to" coping mechanisms for managing situations that caused them frustration. People with co-occurring mental health conditions such as depression and anxiety are more likely to struggle with LFT than others, but it's important to remember that change is always possible. Regardless of what obstacles you've faced in the past, you are in control of what happens in the future.
Learning How to Manage a Low Frustration Tolerance Is a Vital Part of the Recovery Process
A low frustration tolerance increases your risk of relapse because it makes you more likely to give in to cravings when you face the inevitable challenges that come with building a sober life for yourself. Some common sources of frustration for people in recovery include:
Feeling uncomfortable when others ask you about your recovery progress
Struggling to get your career back on track or feeling as though addiction-related behaviors are overshadowing your professional accomplishments
Facing legal changes related to drug or alcohol use
Wanting to reconcile with friends and family you've hurt with your past addiction-related behaviors, but discovering that they aren't willing to forgive you at this point in time
Needing to adjust your treatment plan because a particular therapy isn't producing the desired results
Acknowledge the Challenges
To continue moving forward, you need to be able to acknowledge that the challenges you're facing are just temporary setbacks on the road to self-improvement. Working towards increasing your frustration tolerance can make this easier to accomplish. Here are some tips that you might find useful:
Avoid the victim mindset. People with a low frustration tolerance are prone to feelings of self-pity. They ask, "Why me?" when they are struggling and forget that life is sometimes unfair regardless of what anyone does. Reframe the narrative so you're the hero of your own story.
Make sure you're setting realistic expectations. Substance use disorders are progressive illnesses that develop over an extended time period, so it's unrealistic to expect that recovery will happen overnight. Patience is key.
Give yourself an opportunity to practice tolerating frustration in a safe environment. Tasks that are mildly frustrating, such as putting together a complicated jigsaw puzzle, give you a chance to practice staying calm and keeping your emotions under control. Over time, this will increase your confidence in your ability to handle a wider range of frustrating situations.
Try deep breathing or meditation. Feelings of frustration are often accompanied by a physical response involving rapid breathing, muscle tension, and an increased heart rate. Deep breathing or meditation can help calm your mind and body before you feel completely overwhelmed.
Strive for progress, not perfection. Making mistakes is part of what it means to be human. If you make a mistake, reach out to your sober support network to help you determine the best way to proceed. Show yourself the same grace you'd give a loved one, and don't dwell on the past.
Let Us Help You Face the Future with Confidence
Recovery is about more than simply abstaining from addictive substances—it's about giving yourself the tools you need to deal with day-to-day life in a healthy and productive fashion. If you're finding it difficult to manage your frustration, our addiction treatment professionals are here to help. Contact our admissions representatives today to learn about the full continuum of care offered at St. Joseph Institute for Addiction's Pennsylvania substance abuse treatment center.
Are you or a loved one in need of an addiction rehab near State College, PA? To learn more about SJI Pennsylvania addiction rehab, and our programs, please contact us at (888) 352-3297.