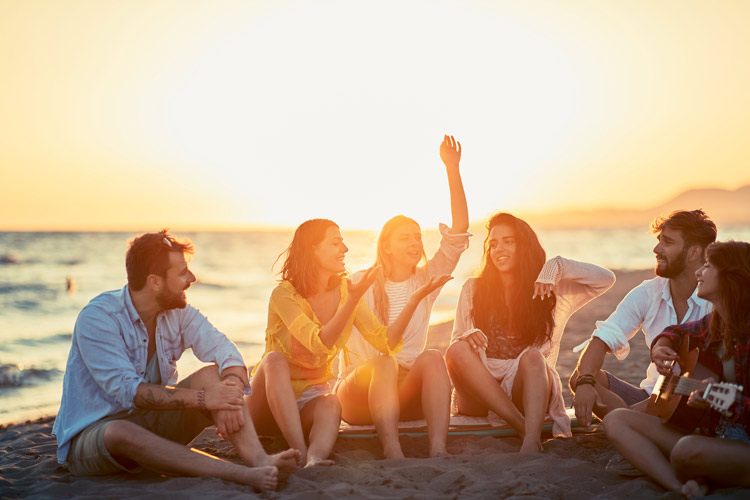 If this is your first summer in recovery, you may be wondering how you'll fill those long days without alcohol. Pop culture has programmed us to romanticize drinking as a crucial part of summertime fun, but the truth is that summer is 100% better when you're sober. When your mind, body, and spirit are healthy, you can focus on enjoying the beautiful weather and making special memories with your family and friends.
Your Sober Summer Fun Idea List
Here, we've compiled a list of 11 fun summer activities for people in recovery. Whether this is your first year in recovery or you're already well-established in your sobriety, think of this as a starting point to help you plan your best summer yet!
1. Hit the Beach
You don't even have to leave the state to plan a fabulous summer beach trip. Only in Your State has a roundup of Pennsylvania beaches you can use to plan your next vacation. Whether you're planning on swimming, boating, building sandcastles, or simply soaking up the sun, you're sure to find the perfect summer beach spot in our beautiful state.
2. Go Camping
No summer bucket list is complete without spending the night under the stars and making s'mores on a campfire. If traditional camping isn't your thing, look for locations advertising "glamping"—an upscale experience that includes luxuries such as comfy beds, electricity, and indoor plumbing.
3. Spend the Day at a Fair or Outdoor Festival
During the summer months, Pennsylvania has a number of fairs and outdoor festivals with live music, delicious food, carnival rides and games, cookoff competitions and much more. From the small county fairs to large events like the Wawa Welcome America Festival, there's something for everyone.
4. Visit the Farmer's Market
Farmer's markets are a great place to pick up fresh summer produce, as well as fresh baked goods, homemade jams and jellies, gourmet coffee or tea, and assorted crafts. The larger farmer's markets even have live music or other forms of entertainment. VisitPA.com showcases some of the can't-miss farmer's markets throughout Pennsylvania.
5. Plant a Garden
Even if you don't think of yourself as having a green thumb, gardening can be very rewarding. Watching seedlings transform into beautiful flowers or fresh vegetables provides a feeling of accomplishment that can motivate you to continue working towards your recovery-related goals.
6. Plan a Picnic
It's a proven fact—all food tastes better when it's part of a picnic. Whether you head to a nearby park or plan a picnic in your own backyard, this is a wonderful way to make summer memories with the ones you love.
7. Have an Outdoor Movie Night
Outdoor movie nights surged in popularity during the pandemic, with many locations creating makeshift drive-in movie theaters or simply inviting guests to watch a film from their lawn chairs or picnic blanket. If you can't find an outdoor movie playing in your area, HGTV has a guide to help you recreate the outdoor movie night experience at home.
8. Invest in a Hammock
There's nothing more relaxing than napping or reading your favorite book while swinging in a hammock. You can purchase a hammock with a freestanding base if you don't have trees in your backyard that can support the weight.
9. Go Out for Ice Cream
On a hot summer day, nothing hits the spot quite like a delicious frozen treat. You can stick to the classics or make it your goal to sample every flavor at your favorite ice cream shop. Don't have a go-to ice cream spot? PennLive has a list of the top 13 ice cream shops in Pennsylvania that you'll want to check out.
10. Pick Up Some Sidewalk Chalk
Sidewalk chalk isn't just for kids. Use your favorite colors to make a cheerful design in your driveway or to write your favorite positive affirmations. Take pictures of your creation before the rain washes it away.
11. Have a Squirt Gun Fight
Another childhood classic that's fun for all ages, a squirt gun battle with your friends or family sure to be a favorite summer memory. If you get enough people involved, you could even split into teams and set up a backyard obstacle course.
We're Here for You
At St. Joseph Institute for Addiction in Port Matilda, PA, we're committed to your recovery. Our Pennsylvania residential addiction treatment program is designed to help you build the foundation for lasting sobriety, but our continuing care services help you successfully transition back to independent living. If you have questions about how to handle your first sober summer or want to learn more about our alumni support options, contact us today.
Looking for a Pennsylvania recovery center? To learn more about SJI Pennsylvania addiction rehab, and our programs, please contact us at (888) 352-3297.